Just as food is one of the basic necessities of life, so is art. Wouldn't it be even better to combine those two basic needs? No need to look any further. We have made a selection of awesome food-turned-into-art-turned-into-food works for you to get inspired this holiday season. Over the years, many contemporary artists have been using snacks, meals and booze in their art. Getting hungry already? Let's get started with the first course.
One of the first artists to experiment with edible art was Piero Manzoni, an artsy dude that wanted to break with the conventional art world. That is why he, in 1960, cooked eggs in a gallery in Denmark and let the visitor eat them. What an egg-cellent idea. With this artwork he kicked some boundaries and got some reactions to f-off. Go Piero!
Also Elizabeth Willing was inspired by an empty stomach when she installed a 7-metre wall that was completely covered with 300 pepernoten in a gallery (for you non-dutchies, try some of these heavenly inventions). Visitors were invited to munch the cookies straight off the wall. At some point all the cookies in the middle were eaten away and visitors had to crawl on the floor to get to the lower cookies or help their friend by carrying each other to reach the ones at the top. That is what I call some serious love of art.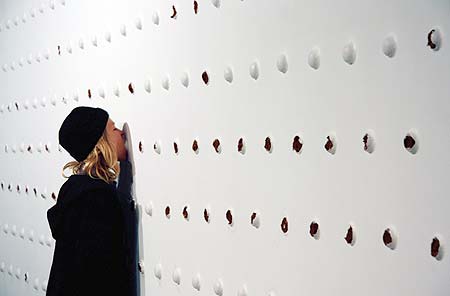 Still not full? On to the main course. Famous contemporary artist Song Dong built a sculpture of a city out of biscuits in 2006 in the Selfridges department store in London. He ordered the crowd to start eating the structure. The audience went completely mental. People ate like they hadn't eaten for months and in a few minutes the artwork was gone. Mr Dong said he had chosen biscuits because "they are very sweet so you can't eat a lot of them
Elizabeth Willing, Goosebump, 2010-2013.
Source: http://www.feastingonart.com
otherwise they make you sick". Well that must've been worth the digestion problems afterwards.
Still not full? Let's get you some desert! One of the most notable examples for food as art is the Pindakaasvloer (peanut butter floor) of Dutch local hero Wim T Schippers. The artist spread peanut butter on the floor of several museums and galleries. The eccentric artist used 1100 liters of peanut butter to create his smelly installation. Omnomnom.
Wim T Schippers, Pindakaasvloer, 1962 / 2011
Source: http://panorama.nl/fotos/humor-fotos/een-kunstje-geflikt.html
There is only one problem when it comes to art made out of food: once it's eaten...it's gone. In the Public House of Art there is no edible art. But the works do still your hunger for art. Bon appetite!