Let's face it, what man wouldn't want a painting of a naked women sprawled across a sofa hanging in their apartment? Chinese billionaire Liu Yiqian liked this idea so much that he decided to smash a few records and make a few heads spin when placing his $170.4 million bid for 20th century Italian artist Amedo Modigliani's Nu Couché at Christie's auction house in New York on November 9. And boy did he make his wish come true. In just nine sweet minutes Yiqian had this one special lady signed, sealed and delivered via a simple phone call.
Img source: WikiMedia
So who is this stinking rich man and why am I bothering to tell you his tale? Well there's more than what meets the eye. Born in 1963, Yiqian dropped out of school at the ripe old age of 14 to sell knock off handbags with his mother and work as a taxi driver around the bright city lights of his hometown Shanghai. In the 1990s, he then had enough money to start investing in the Shanghai stocks markets. Well played Yiqian, this clever move began his rag to riches testimony and soon enough he was able to capitalize his steady earnings into the record-breaking deep-pocketed man he is today. Currently worth a cool $1.43 billion, according to Forbes online, Yiqian isn't your average art collector or culture connoisseur. In fact I am not even sure if he knows anything about art at all but refreshingly so, he is not afraid to admit this. Referring to himself as somewhat of a 'Tuhao', a derogatory Chinese term for the nouveau rich in mainland China, Yiqian will happily tell you that he does not have the foggiest idea about fine culture or the prestigious art world.
Never one to come second, even though he has no clue what game he's playing, Yiqian famously once said: 'Whenever I saw others bidding, I just competed then I would ask them why is this piece good?'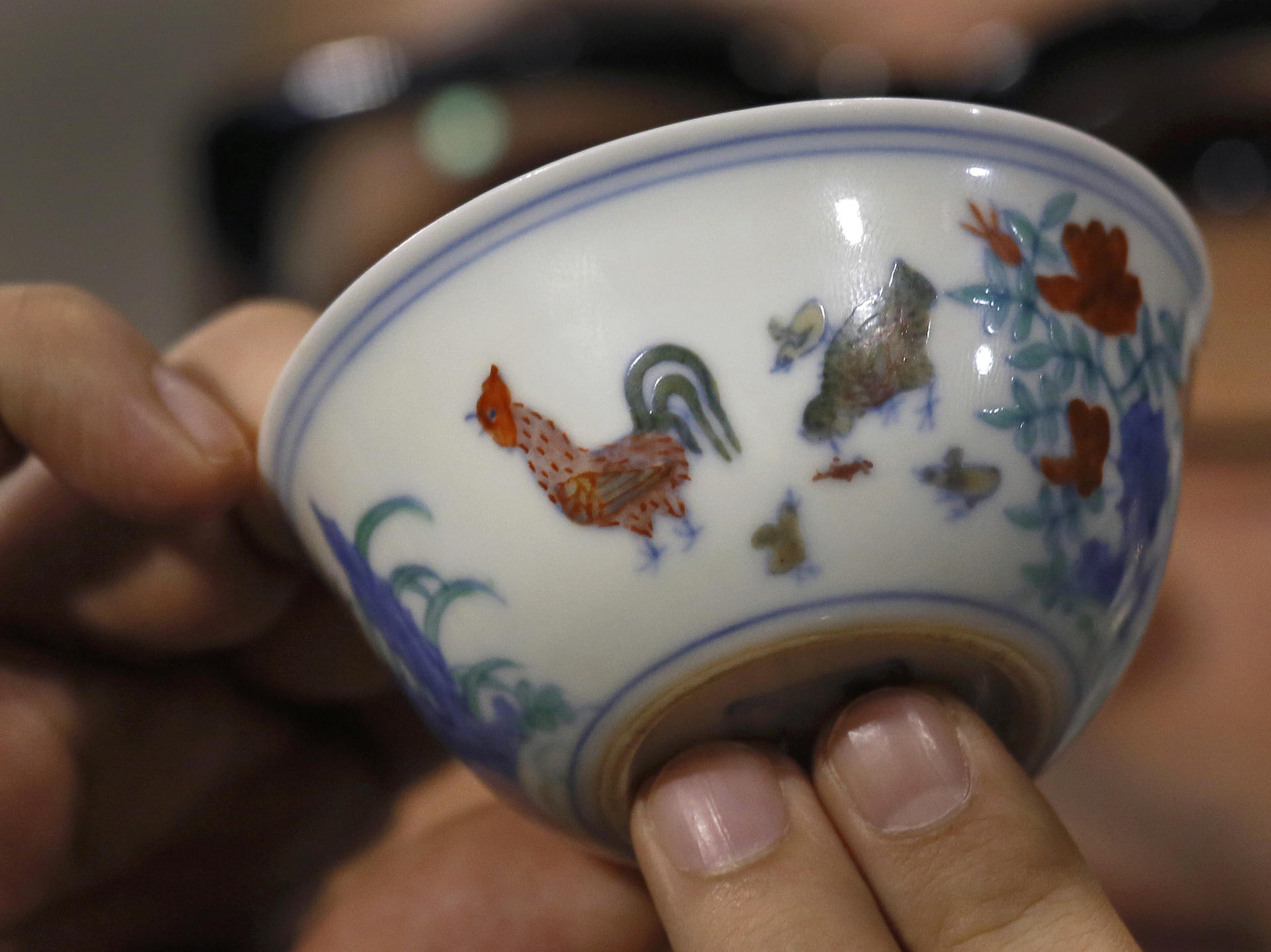 Img source: smcp.com
This not having a clue prerogative is further proven when in 2014 Yiqian purchased a $36.3 million dollar antique Ming Dynasty porcelain chicken cup that he then preceded to drink a delightful cup of tea from and share this moment on social media. Made in the 15th century during the Ming dynasty under the reign of the Emperor Cheghua, this little cup is one of only nineteen that remains left in the world. Porcelains made during this time period are known to be the most refined and precious items of Chinese art by collectors. Understandably, therefore, some found it a little innerving to see Yiqian happily sipping away on this precious part of Chinese history considering all but four of the remaining cups are stored and guarded in museum collections.
Img source: dailymail.co.uk
These are just only a few of Yiqian's pricy acquisitions. He has also shelled out $45 million on a 15th century Buddhist tapestry, $11.1 million on an imperial carved Zitan 'Dragon' throne from the Qing dynasty and $14.7 million on a Guan Vase from the Song dynasty.
Whether you love or hate this gaudy billionaire one must admire what Liu Yiqian and his wife Wang Wei have done for the arts in their hometown Shanghai. Together they have created one of China's most valued art collections and have founded two of the most popular private art museums in Shanghai, the Long Museum Pudong and Long Museum West Bund. However just you remember Liu Yiqian money may buy you the finer things in life but it can't buy you taste!
Written by Paris based, freelance writer Joanna Reid for The Public House of Art